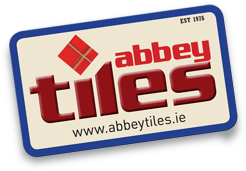 We invite you to our Showroom
Main St. Abbeyfeale, Co. Limerick, V94 F621

Telephone:
+ 353 68 31109
+ 353 87 6340762

Fax:
+ 353 68 31661

Email:

Skype:
abbeytiles

Facebook:
Opening Times
Mon - Sat: 9am - 5pm
Late night by appointment
Abbey Tiles

- LVT Flooring
LVT (Luxury Vinyl Tile) Buying Guide

A great flooring option for any home, luxury vinyl tiles promise authentic looking natural flooring designs at a fraction of the price of the real thing. Available in a range of styles, designs and colours, vinyl flooring tiles look great in any style home.

Find out everything you need to know about luxury vinyl tiles here, including:

What are luxury vinyl tiles?

Types of vinyl tiles

Benefits of vinyl tiles

The difference between vinyl tiles & vinyl sheet flooring

How to measure a room for vinyl tiles

How to lay vinyl tiles

How to clean vinyl tiles

Safety advice
1. What are Luxury Vinyl Tiles (LVT)?

The first, very basic, vinyl tiles were introduced in 1964 by a company called Amtico. By 1989 they had developed into the product we now know as LVT, and today.

2. Types of vinyl tiles

Dry Back – adhesive needs to be applied to the sub-floor
Self-adhesive – tiles already have adhesive on the backing
Click – similar to a laminate click system, the tiles click together to make a floating floor surface.

3. What are the benefits of luxury vinyl tiles?

Luxury vinyl tiles are very easy to install and maintain and are especially suited to rooms that see a lot of traffic. Designs are available to suit any decor while the luxury vinyl tiles can be used with underlay and their special construction makes for a healthy and energy-efficient environment.

As well as offering a high level of sound insulation and retaining heat, LVT is ideal for use in conjunction with underfloor heating systems too for added comfort and practicality. Their lower impact noise also makes them ideal for apartment living.

Why are these vinyl tiles luxurious?

Luxury vinyl tiles (LVT) provide the luxurious finishes of wood, stone and slate flooring but at a fraction of the price. Designed to mimic traditional flooring options, these tiles add authenticity to a home without huge expense. They look just like the real thing with authentic finishes but don't cost anywhere near as much.

4. What is the difference between vinyl tiles and sheet vinyl flooring?

The main difference between sheet vinyl flooring and vinyl tiles is that sheet flooring comes in one roll which will be of a set width while vinyl tiles will slot together and be much smaller.

Sheet flooring will generally cost less than tile flooring. however, tiles are stronger, more water resistant, and can be removed and replaced more easily should damage occur.
Using vinyl tiles also allows for plenty of creativity as different designs can be used to create a floor that is completely designed for you! For more help deciding between sheet vinyl and luxury vinyl tiles, take a look at this handy Vinyl Flooring Buying Guide.

Are luxury vinyl tiles resilient?

Luxury vinyl tiles are very resilient. Designed to be resistant to scratches, stains and moisture, tiles are perfectly suited to rooms where moisture and spills are especially common such as the kitchen and bathroom.

These types of tiled flooring can be repaired more easily than other types too and also require very little maintenance on a day-to-day basis with most varieties simply being wiped clean.

Where can you place luxury vinyl tiles in the home?

Luxury vinyl tiles offer style and durability for any of the busiest rooms in your home. It is especially suited to rooms which can get wet or damp, or where stains are likely to occur as it can be easily cleaned in such instances. Bathrooms and kitchens are both popular rooms for luxury vinyl flooring but it can be used in other rooms if you wish.

5. How do you measure a room for luxury vinyl tiles?

Before buying and fitting any time of flooring it is vital to measure the room carefully. This remains the case with luxury floor tiles and the total floor area should be calculated by multiplying together the length and width of the room.

In instances where rooms are not square, it should be divided up into rectangular or square sections with each surface area added together to get the overall total.
Once calculated, you should allow for an extra 5% to ensure that you will have enough vinyl tiles to cover the floor while having spares to allow for waste or to match any patterns.

Most retailers will let you return un-opened packs of luxury vinyl tiles so you don't have to worry about wasted money but you may also like to keep hold of a couple to replace any damaged sections later on.

Before you buy, you may need to measure up and do some calculations.

6. How do you lay luxury vinyl tiles?

Our LVT ranges use either a 'Dry Back' or a 'Click' system, which is similar to our laminate products. The Dry Back system must be fully stuck to the sub-floor thus preventing movement. The click system, like laminate, creates a floating floor that doesn't need any adhesive, so it's an easy-to-fit option for our customers that can be self-installed.
We always recommend that flooring is professionally fitted, but if you opt to lay luxury vinyl tiles yourself, read this: How to Lay Luxury Vinyl Tiles DIY Guide.

7. How do you clean luxury vinyl tiles?

Luxury floor tiles are straightforward to clean and can be maintained with only minimal day-to-day care. Simply brush away dirt and debris with a broom and remove firmer dirt and stains with a damp cloth.

Soap and hot water should be enough to lift dirt and return your vinyl floor to its former glory but in other instances mild detergents can be used. A number of cleaning products can be used with luxury vinyl tiles but be sure to check the label first to ensure you don't use anything that is unsuitable.

Preventative measures can be taken to ensure maximum lifespan of your LVT including placing doormats outside and inside the front door to help stop dirt and grit being walked in and also putting protective pads on furniture.

8. Safety Advice

Luxury vinyl tiles are non-absorbent so any spills should be wiped straight away to prevent slips or accidents and to remove the risk of damaging the floor.

Rugs or mats that are placed on luxury vinyl tiles should be non-slip or rubber-backed to prevent them sliding and presenting a trip hazard. You should also place rugs in a convenient location on the floor and not in a position where the edges may upturn or get caught on feet.

All tiles should be regularly cleaned so as not to pose a slip risk but it is important to read the label on any cleaning chemicals to ensure they are suitable for use before applying them to your final floors.

View our Luxury Vinyl Tiles now.​
These are the brands of LVT we stock:
http://www.quick-step.ie/en-ie/livyn